Ricoh launches two new Direct to Garment printers
Ricoh Europe, London, 08 May 2017 – Ricoh continues to drive the opportunities and flexibility of its customers through the launch of two new RICOH Ri 3000 and Ri 6000 Direct to Garment (DTG) printers. Customers will be able to experience this new DTG technology at FESPA 2017, Hamburg, May 8   12, Hall B4L, Stand C10.
The highly productive RICOH Ri 3000 and Ri 6000 systems enable print providers to have more flexible, cost-effective and dynamic customer offerings by providing high quality digital printing in the traditionally analogue garment printing segment.
The Ricoh DTG printers are ideal for promotional printing on items like T-shirts, cloth bags, hoodies, sweatshirts and socks. The RICOH Ri 3000 and Ri 6000 can print on a wide range of materials ranging from 100% cotton and 100% light polyester to mixed (polyester) garments up to 50/50 blends.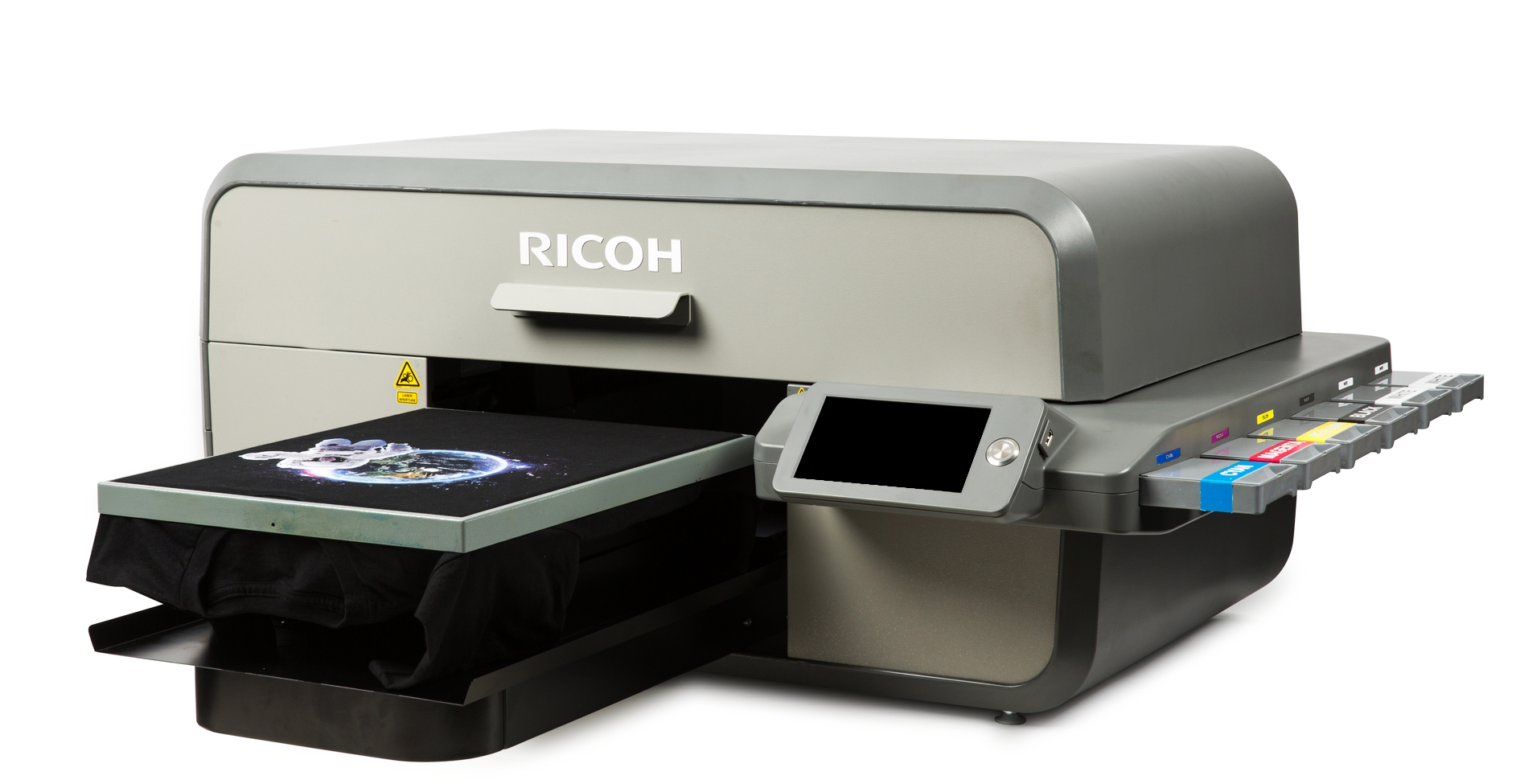 The two machines will equip print providers - such as screen printers, specialist DTG printers, sign & display printers, commercial graphic arts printers and other entrepreneurs - to produce valuable applications for a wide range of industries and activities, including fashion, universities, colleges & schools, corporate brands, SMBs, home decoration shops, youth groups, sports clubs and charity events.
Graham Moore, Inkjet Sales & Marketing EMEA, Commercial and Industrial Printing Division, Ricoh Europe, says: "Our new RICOH Ri 3000/Ri 6000 Direct to Garment printers offer customers the ability to simplify and shorten their production process compared to traditional analogue screen printing or other methods."
Moore continues: "The RICOH Ri 3000 and Ri 6000 models offer the benefit of digitally printing low volume, personalised short run jobs, as well as production volume longer run jobs. We are able to achieve outstanding image quality on both light and dark garments without any limitation on half tones, detailed designs or photographs. These systems deliver colourfast, machine washable prints that last and can stretch without cracking. The new eco-friendly Ricoh Garment inks give designs a soft touch and vibrant colours."
Both systems incorporate Ricoh piezo-electric printhead technology. These industrial grade printheads have a robust stainless steel architecture which delivers high levels of durability and longevity, contributing to market-leading performance. The AnaRIP software provides total control of print settings and expected ink costs.
The systems also include user-friendly maintenance features such as an automatic ink circulation system for white channels which improves ink flow and increases performance. Print workflows are easily managed too, with a new seven-inch, touch-enabled operation panel.
The RICOH Ri 3000 and Ri 6000 printers will be progressively available throughout Europe from the third quarter of this year. To learn more about the Ricoh DTG printers please visit www.ricoh-europe.com